Gramercy Theatre | New York, New York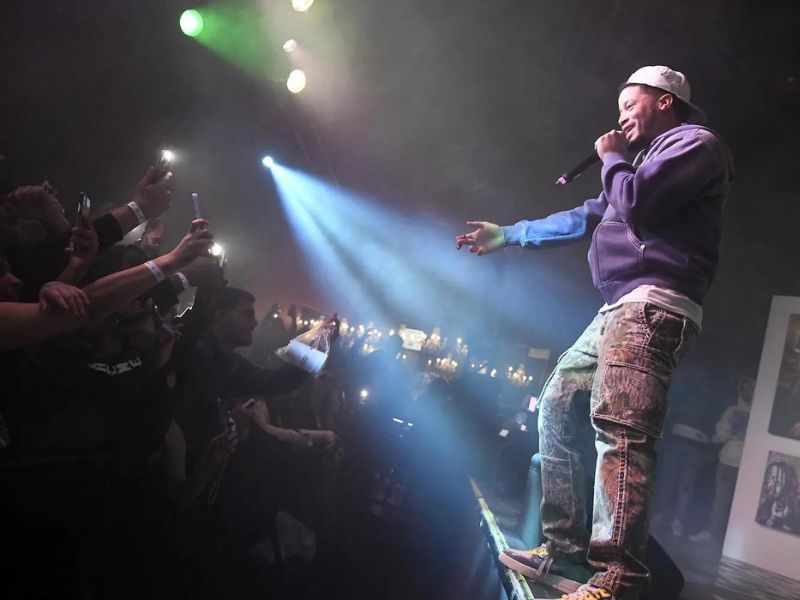 Veeze's tour is finally here!!
The tour comes hot off the heels of his long-awaited album 'Ganger,' which dropped in June.
Backed by the hip-hop anthem of the year "GOMD" amassing over 14M+ Streams and its epic remix featuring Lil Uzi Vert, the long-anticipated "Ganger" marks Veeze's second full-length album – following his 2019 debut "Navy Wavy." Over the past few years, hip-hop fanatics have been patiently waiting for the release of "Ganger" as Veeze drops hints and teasers.
Now, it's your chance to be one of the first to witness the unique album live and up close as his tour kicks off in New York City this fall.
Veeze is bringing his Ganger tour to the iconic Gramercy Theater on Tuesday 10th October 2023.
This is a rare opportunity to see Veeze live and up close! Don't miss this opportunity - secure your tickets now, before it's too late!!
Born and raised on the West Side of Detroit, specifically on Seven Mile Road, Veeze has been deeply influenced by the vibrant rap scene of his hometown. Artists like the Street Lord'z, Blade Icewood, Eastside Chedda Boyz, Mack Nickels, and Doughboyz Cashout, as well as groundbreaking mixtapes like Peezy's 'Mud Muzik,' Icewear Vezzo's 'The Clarity,' and Babyface Ray's 'Mia Season,' have all played an important role in shaping his epic career.
Veeze made his mark early on with tracks like "Rusty" in 2019 and "Law N Order" in 2020, quickly making a name for himself as a pillar of the Michigan rap scene. His lyrics were characterized by their fragmented and unpredictable bars, setting him apart from fellow artists like Babyface Ray and Peezy, who favored more conversational storytelling.
Despite his initial success, Veeze took a step back from the music scene, acknowledging that rap and fame weren't his top priorities at the time. But now, it's your unique chance to witness this rap sensation live in action!! After years of anticipation, this unique Detroit rapper has returned with an album that's filled with vocal quirks and unexpected punchlines.
His latest tour is in support of his widely acclaimed 'Ganger' album, which dropped in June.
'Ganger,' the long-awaited follow-up to his 2019 debut mixtape 'Navy Wavy,' is a showcase of vocal eccentricities and laugh-inducing, stream-of-consciousness lyrics. He effortlessly jumps from one idea to the next, peppering his songs with pop culture references and hilarious punchlines like "That drank all in my belly like Winnie the Pooh" that keep fans entertained.
This latest project also boasts exciting collaborations with artists such as LUCKI, Babyface Ray, Icewear Vezzo, Lil Yachty, and Lil Uzi Vert. Veeze recently took the stage by storm at Rolling Loud Miami 2023, delivering a performance that left the crowd electrified. Now, he's gearing up to hit the road for 'The Ganger Tour' and set stages ablaze once again.
The tour is set to kick off in October at the iconic Gramercy Theater in New York City. If you haven't heard, the Gramercy Theatre is a historic music venue located in the heart of the Gramercy neighborhood. Originally constructed in 1937 as the Gramercy Park Theatre, it has hosted countless A-list performers over the years.
Don't miss your chance to be among the first to witness this rap sensation live on tour with 'Ganger.' Envision yourself dancing to his incredible skill set and imaginative lyrics at the Gramercy Theater. It's an experience you won't want to miss!
As Pitchfork put it, 'Veeze is a Swiss Army Knife, capable of adapting his distinctive, unhurried delivery to any musical environment.'"