Gramercy Theatre | New York City, New York
Joe List and Mark Normad will be at the Gramercy Theatre, New York, on Tuesday the 27th of June 2023 for one of their special, live recordings of their podcast, 'Tuesdays with Stories'. Thankfully, Joe and Mark are both funny guys and they have a limitless supply of yarns to spin, from Canadian strippers, horse death and the cliches and stereotypes surrounding us in life. They love recording at the Gramercy Theatre and are thrilled to be returning to its stage for another of their live recordings. Tickets are on sale now, so make sure you secure yours without delay, as previous live recordings of their podcast have sold out, so make sure you don't miss out. You will have an amazing time full of laughs, a few shocks and gasps of, 'Oh No they didn't?!', as they weave the tales of their lives alongside their featuring comedic guests. BOOK NOW!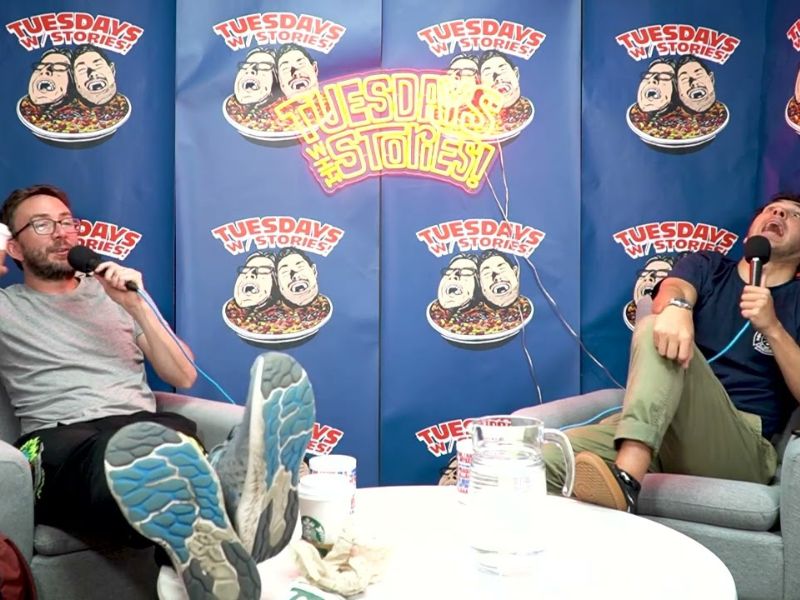 'Tuesdays with Stories' is the fun weekly podcast that comedians Joe List and Mark Normand host. Every Tuesday they delve into the amusing, sometimes bizarre, sometimes a bit shocking, often embarrassing, but mostly side-stitching funny stories that tickle the ears of listeners… and each other! Their podcast is the perfect chance to sit down, grab a drink and snort and laugh as they talk and share stories, often with fellow funny friends. 'Tuesdays with Stories' is the perfect podcast of friends sitting down, talking and laughing, and has the funny natural ease of inviting listeners in to be their friend and join them too. For their #495 episode they will be tearing down the anonymity of the radio waves and taking to the stage of the Gramercy Theatre with the UNCUT version, with an extra 45 minutes of podcasting and some behind-the-scenes footage. It will be an unfiltered, live version, where you can join List and Normand in the flesh and be a part of their show. Joining them on the 27th of June will be Shane Gillis, fellow comedian and podcaster, and Saturday Night Live featured cast member. Sal Vulcano will be there too, who with the programme, 'Practical Jokers' and his improvisational style, has made a reputation and style unique to him. Finishing the line-up for the recording is Ari Shaffir, known for his shocking opinions colliding with the funny delivery of his jokes. All these comedians have a fluid on-stage chemistry when together that is clear to see. They've collaborated on different podcasts, shows and stand-up events, such as 'The Joe Rogan Experience' podcast on the 'Protect Our Parks' episodes with Shane Gillis, Mark Normand and Ari Shaffir. For the recording of 'Tuesdays with Stories' #495 episode, it will be a delight to see them unite again for the embarrassing revelations and outcomes as they share unfiltered stories. So, make sure you're there to enjoy the latest stories from them all as List and Normad guide the recording and be a part of 'Tuesdays with Stories' for their #495 episode at the Gramercy Theatre on 27th June 2023.