Gramercy Theatre | New York City, New York
Serving his signature blend of soulful R&B, folk, and pop, Justin Nozuka is following up his 2021 acclaimed EP, "Then, Now & Again", with a new full-length album. His new record "Daydreams & Endless Nights" is coming out this June, spicing things up with a matching tour in support of his highly-anticipated release. The Daydreams & Endless Nights Tour is set to serve endless nights of acclaimed music by the one and only Justin Nozuka, live on stage. Known for delivering dimensions of alt-R&B textured with folk and psychedelic pop, he's set to transport audiences into his world as he conquers the stage at Gramercy Theatre on Saturday, 22nd of July 2023. The two-time JUNO Award-nominated artist definitely has some big surprises in store as "Daydreams & Endless Nights" comes crashing right around the corner. Backed by his captivating vocals, raw emotions, and alluring productions, we're stoked to see what Justin Nozuka has in store for his new era. Don't miss out by booking your tickets now!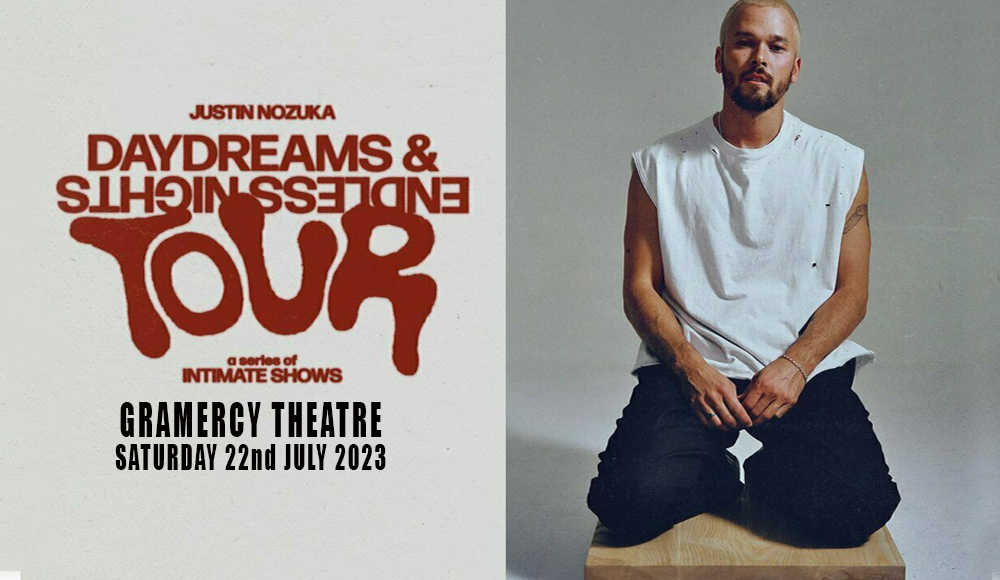 Releasing his debut album "Holly" in 2017 to the world's acclaim, Justin Nozuka quickly became a gem in the scene for his emotional tracks characterized by genre-bending elements of Folk, R&B, and psychedelic pop. Four albums in, namely "Holly", "You I Wind Land and Sea", "Ulysees", and "Run to Waters", the man is finally sharing his newest masterpiece on June 16th, as "Daydreams & Endless Nights" officially makes its big release. The album follows his acclaimed 2021 EP "Then, Now & Again" where he explored his roots, sharing soulful tunes that resound across his body of work.
"I'm confidently getting back to the roots and music that taught me how to sing and educated me on songwriting in general," the man shared about "Them, Now & Again". "I think R&B melodies and music has an innate quality of deep passion, pain and love."
Sharing newfound techniques and passion for his craft, the man is definitely set to take this energy to the next level with "Daydreams & Endless Nights". Judging merely by its name, we bet it'll definitely serve some introspective anthems and emotionally-driven tracks that soothe the soul. As Nozuka explores endless nights in his new era, we're definitely in for endless nights of streaming those tracks, and seeing ya'll at the tour!
"This album means so much to me. It was a labour of love and made with my people in the city," Nozuka shared in a note about his upcoming album. "It expresses aspects of me as an artist and person that I've yet top share. It's my personal fave body of work to date"
Known for pouring his heart out in every record, Justin Nozuka is definitely a man who sends listeners to new worlds. This precision for his craft is reflected in his notable hits and fan favorites such as "Mr. Therapy Man", "Right by You", "My Heart Is Yours", "Warm Under the Light", "No One But You" feat. Mahalia, "All I Need", and many more. With a track record that never fails to amaze, he's bagged two JUNO Award nominations, 2 NRJ Awards, and several sold-out gigs across Europe and the U.S.
"Can't wait to share it with you next month and to sing it with yall on tour. love, always! J," the singer wrote on his note announcing Daydreams & Endless Nights and its matching tour.
Daydreams & Endless Nights is out this June 16th. Catch the new record live on stage, along with intimate performances of his best songs on tour by booking those tickets now!