Gramercy Theatre | New York, New York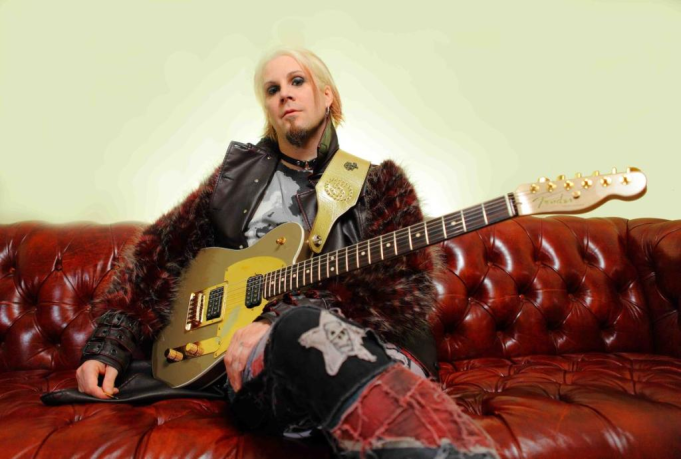 HEY YOU ROCK'N'ROLLERS! You'll wanna grab your TICKETS fast for this one! The man, the legend, the guitar shredding maestro, John 5, is hitching his wagon of explosive sounds to the fabled Gramercy Theatre in New York, New York, and y'all are getting an invitation to join the party on February 15, 2024. THIS IS HUGE. An absolutely rip-roaring, pedal-to-the-metal CONCERT experience unlike any other, in the heart of the Big Apple!
The TOUR has been tearin' up towns country-wide with it's downright ELECTRIFYING spectacle. Every strum ripples through your very soul, every beat sets your heart on fire – THIS. IS. LIVE. MUSIC. People! You'll be treated to all his greatest hits - no, not just treated; you'll be BAPTIZED in cataclysmic waves of sonic wonder! Remember "Season of the Witch"? "Vertigo"? Yeah, those.
Sure, you could stream his tunes in your room. But nothing matches the pulsating heat of sweat-soaked fans, the whirl of colored lights blinding your senses and those seismic riffs in a live setting. Experience John 5 in all his blazing glory, commanding those frets like a wild beast, unchained and on the prowl. We're talkin' deafening decibels, a visual feast of a lighting show, and the booming, all-encompassing sensation of REAL, RAW ROCK.
Folks, don't say "I wish I was there", BE THERE. History in the making and memories waiting to be forged. This is the call, the siren song, the rocky rollin' event of the year. Grab your tickets, get ready, and let's ROCK THIS TOWN. It's gonna be an absolutely smokin', strummin' and drummin', show-stopping stunner.
ATTENTION all ax-slinging aficionados and monster metalheads! The electric virtuoso we all revere, the one and only John 5, is tearing up the stage at the notoriously iconic Gramercy Theatre in New York, New York! This UNMISSABLE eccentric concert experience is all set to infest your senses on February 15, 2024. We are talking about an eclectic exoneration of sensational guitar shredding IN THE FLESH. This ain't a dream folks, it's REAL!
Rock on? Heck, yeah!
Fusing metal, industrial and country, John 5's guitar prowess is off the charts! This man, ladies and gents, has RECORDS, AWARDS and TOURS under his belt that would make any budding guitarist weep. The best part is, he's bringing all that heavy-duty experience and raw talent to us! Can't beat that, can ya?
No way, Jose!
Have you scored your ticket?! No? YIKES! Tracker down, bro! Grab it before they're gobbled up by other zealous fans. We all know how his concerts sell like hot pancakes, and folks, this is one hot ticket you cannot afford to miss! This concert, after all, ain't just about epic music, it's a CULTURAL PHENOMENON.
Right dudes?
Talking about cultural phenomena, let's gab about the venue. The Gramercy Theatre, my fellow rockers, breathes music. Living on as NYC's authentic rock hall, it's practically etched into the core of the city's music scene. Conveniently nestled in the heart of Manhattan, with its vintage charm and intimate seating arrangement, this legendary stage has hosted massively talented artists and massive pipe dreamers alike.
Now. Let's get down to business...
Experience? It's proudly etched in the walls. Reputation? The sheer number of doodles, tokens, and instruments that music icons have left behind speaks volumes. Offers? Oh dear, it's way more than just a stellar concert venue. An assortment of craft beers, an alluring collection of merch to snag, and THAT PERFECT ROCK CONCERT AMBIANCE. The Gramercy Theatre is not just about a night of music, trust me, it's about an unforgettable EXPERIENCE!
So, head bangers of the city, are we in or what?
Get off your sofas, put on your ripped jeans, strap up the old boots, sling on your favorite rock tee and get ready to set the night on fire. Get out there, secure the golden ticket and join the ranks of the die-hard John 5 fans.
Rock 'N Roll is calling. Will you answer? Because this concert... it's a once-in-a-lifetime kind of show, and you'd be a fool to miss this. So, why wait? Seize the day, snatch those tickets NOW, and make some METAL MAYHEM!
Respond to the call of the monster guitar!
TO THE TICKETS, MY FRIENDS. TO THE TICKETS!