Gramercy Theatre | New York, New York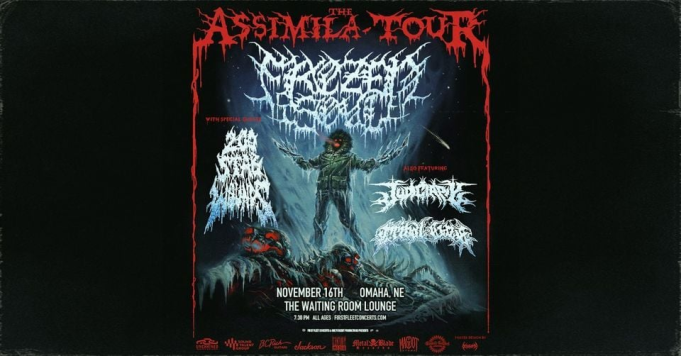 Alright, my hardcore pals and die-hard fans of the rawest veins of metal, let's rally 'round the flag and gear up for a night that will go down in the annals of rock history! November 5, 2023, two-thousand and twenty-bloody-three! Pencil that date in your mental Rolodex and score your TICKETS to witness the crushing and thunderous sonic boom of Frozen Soul, 200 Stab Wounds, Judiciary, and Tribal Gaze – LIVE at the cherished Gramercy Theatre in the heart of the Big Apple.
Oh, it's gonna be off the chain, dudes and dudettes. This night will pulsate with energy as each band thrashes their way through their acclaimed collections. Frozen Soul's "Crypt of Ice" will chill you to the bone, and 200 Stab Wounds will deliver their gut-punching in the form of their fan-favorite, "Piles of Festering Decomposition".
Judiciary's tight grooves and powerful lyrical punches, and Tribal Gaze's relentless, no-holds-barred approach to raw rock will propel all you headbangers into a state of permanent whiplash!
Be ready to dive into the mosh pit at this UNMISSABLE CONCERT. This TOUR, my comrades, is a head-spinning, heart-racing whirl of rock, rebellion and some radical damn righteousness. When the strobe lights flash and the feedback roars, you'll know...you're living your best rock 'n roll life.
So set your alarms, ink it on your arm, etch it into your coffee table; do whatever it takes. Be there — or be forever square. ROCK ON!
What's up, music lovers?! You better brace yourselves for the wildest concert ever! An ear-splitting, rib-rattling, head-banging Tour is descending upon the city that NEVER sleeps. On November 5, 2023, we've got Frozen Soul, 200 Stab Wounds, Judiciary & Tribal Gaze set to rock your world, igniting the stage at none other than our iconic Gramercy Theatre in New York, New York. Can we get a YAAAAAS?!
This ain't just a concert guys and gals – it's an effin' ExPERIENCE! A raw, gritty amalgamation of four acts that are trailblazing the metal scene. No, siree, it's not your nana's knitting circle. It's guttural, visceral, and straight from the pit of the underworld. It's "HQ audio" made flesh, and it's ready to tear down the roof!
FROZEN SOUL, our distinguished headliners, are bringing their icy blasts of death metal, chilling to the core. They've toured the globe, breaking barriers and sound records—this stuff is HEAVY! And hey, ever heard of the term 'HEART-STOPPING'? That's 200 Stab Wounds for you. Not. Even. Kidding. Your heart might literally skip a beat. Or two. Or twenty.
Judiciary ain't just a band, they're LEGENDS. Sharing their unique take on Texas hardcore, these guys are straight-up addictive. We dare you to not mosh. Triple. Dog. Dare. And then, there's Tribal Gaze. Thrashing yet thoughtful, their jams grip your soul and command your body to move, shifting gears into the UNKNOWN!
Now, let's chat about Gramercy Theatre for a quick sec, peeps. This spot's not just cool; it's historic. A classic, intimate space that's hosted award winners and chart toppers. The acoustics? Fire. Bet! And the bar? It's stocked with your favorite brews and spirits. Do we even need to mention the location? It's New York, baby! The heart of the world, where dreams are made, and superstars are born!
SO, What's the holdup, friends? This isn't a gig to miss. Nah, it's one of those 'remember-where-you-were-when' moments. We're talkin' HISTORY in the making here. Your chance to be part of it is just a few clicks away.
Snap up those tickets NOW, fam! Grab yours while they last! 'Cause, let's face it, FOMO is real and it's brutal. So, do the thing. Make the memories. Secure the bragging rights. This is your call to action. Your golden ticket to the gig of the year! GO forth, Rock on and LIVE THE DREAM!