Gramercy Theatre | New York, New York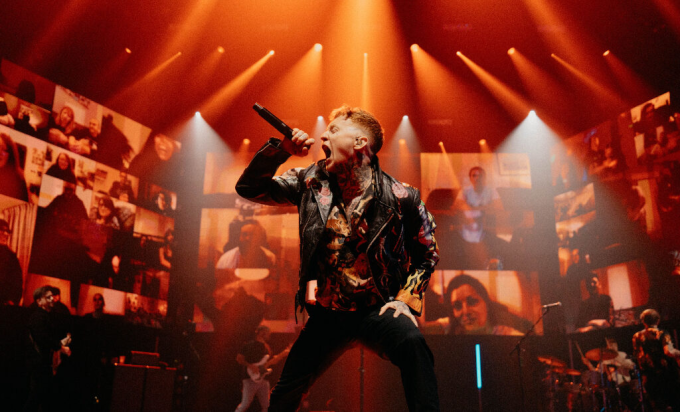 NYC peeps, brace yourselves! Frank Carter and The Rattlesnakes are ready to RAISE HELL at the Gramercy Theatre on May 21, 2024. These punk rock maestros are known to tear the roof off with their blistering live shows. Get ready for a musical APOCALYPSE, folks! Remember the hits like "I Hate You" and "Anxiety"? You'll experience them raw and unfiltered. Carter's gut-wrenching vocals, coupled with that Rattlesnakes' punchy, brutal guitar work is something else, man. It's a full-blown sonic ASSAULT. PURE, ANARCHIC ENERGY permeating every inch of the room. It ain't just a concert, it's a toe-curling, heart-pounding, soul-shaking EXPERIENCE. Yeah, you'd be crazy to miss it! Let's mosh, party, and let loose on the music that drives us insane. It's not just another gig, it's THE GIG! So, what are you waiting for? Gear up, get those tickets, and let's make some NOISE! Let's SHOW Frank Carter and The Rattlesnakes how NYC rocks!
Get ready to wreck yourselves, folks, and lose your minds! Let that youthful rebellion spark ignite once again as Frank Carter and the Rattlesnakes thunder into the legendary Gramercy Theatre on May 21, 2024, for a punk-rock extravaganza that you won't forget. Brace yourself for a torrid maelstrom of fiery lyrics, explosive riffs, and wild theatricality perfectly encapsulating the heady adrenaline of the genre.
Whether you're a gnarly punk veteran or a neophyte seduced by the siren call of punk-rock, this concert's gonna satisfy you like no other. The music will be loud and unruly, the crowd, robustly ecstatic, and the ambiance, electrified. Together, they create an unforgettable mayhem that is true to hardcore punk-rock.
About Frank Carter and the Rattlesnakes
Fronted by the ferocious and charismatic, Frank Carter, this British punk-rock band is a living testimony to the iconic London punk scene's undying spirit. Frank Carter's combustible stage presence has set more than just the hearts on fire – it's a full-blown bonfire of emotions that mesmerize audiences no matter where they go.
Don't let their slithering name fool you - the band's achievements are anything but subtle. With multiple album releases scoring highly in the UK charts, and an excessive list of preformance experience that's longer than a punk-rocker's Mohawk, it's not a stretch to say that Frank Carter and the Rattlesnakes have conquered the punk-rock world. So, be ready to feel the heat as they light up the stage with their explosive performance!
Gramercy Theatre Information
Historic as a punk rockstar's battle scars and reputable as famous tattoos, Gramercy Theatre in New York, New York, is the host of this epic event. Sitting proudly in the heart of the city, it's a gem that provides the right ambiance for a whiplash night of punk rock music.
Gramercy brings together the hallowed charm of tradition and cutting-edge modernity to offer an unmatched concert experience. Not to mention their dizzy array of food and drinks that can make your concert experience more delightful, and satisfying.
Ticket Information
Tickets? Oh, yes mate! You could clutch a penny at the box office, but why pay full price when "Ticket Squeeze" sorts you out while keeping a little jingle in your pocket? With low prices that would make a busker blush and low fees that are just as sweet, they are the preferred choice for gig-goers looking for resale tickets.
After all, punk-rock was never about complying with the excessive corporate prices, right? Stick it to the man and grab your tickets from "Ticket Squeeze" – because more cash means more extra rounds at the concert.
Let's face it, mate – you don't want to merely hear about the thrill of Frank Carter and the Rattlesnakes' performance buzzing in people's conversations later. You need to be part of it yourself. So, step up, buy those tickets – and be ready to rock the night away!